On a recent phone call with President Barack Obama, New York Governor Andrew Cuomo observed that we seem to have a one hundred year storm every year now. Fortunately for us, the senior levels of government are providing more than gallows humor in the aftermath of the super storm Sandy. As a resident of a county declared a disaster area, I feel well represented by the federal, state, regional and local governments that are overseeing this natural catastrophe. But are we ready for the next storm, like the one that is coming literally and figuratively tomorrow?
Nyack Sketch Log: 25 Days Since the Newtown Massacre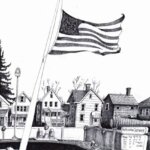 January 8, 2013
For the first 17 days after the mass shooting at Sandy Hook Elementary School in Newtown, Connecticut, the flag at the Soft Cloth Car Wash on Route 59 flew at half-mast. The massive flag dominates the view from my kitchen window. The custom of flying a banner at half-mast is to allow the invisible flag of death to ceremonially occupy the top spot. The flag returned to full mast on the first of January, but I detect a specter of despair that still hovers around the summit like a fog, dimming the stars and blurring the stripes. I wish that flags in our country could remain at half-mast until something concrete is done to restore domestic tranquility.